Seven

'

Date of creation

4/17/2012

Current Leader

Founder(s)

Members
Brief InformationEdit
Seven is a crew that was created on 17th of April 2012 by Haze_21 better known as AlphaHaze. The crew have always been considered a bizzare bunch but have proven their strengths in-game numerous times. AlphaHaze no longer leads the crew as he left to persue a career in another crew called Adventure but his initial "Seven" values still remain. The crew was entrusted to unkvcc2 upon his departure.
Dedicated MembersEdit
AlphaHaze, spanknass, unkvcc2, Quantum_X, tryggerage, JM_Viking, Okofro, Marv31, Cassiae, LeManouche, Goedkoop, delstrudoV, shin_shan, Laughinkid (who is currently in HardRock).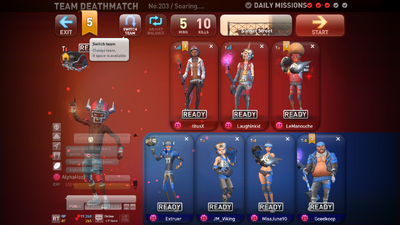 AchievementsEdit
Ad blocker interference detected!
Wikia is a free-to-use site that makes money from advertising. We have a modified experience for viewers using ad blockers

Wikia is not accessible if you've made further modifications. Remove the custom ad blocker rule(s) and the page will load as expected.